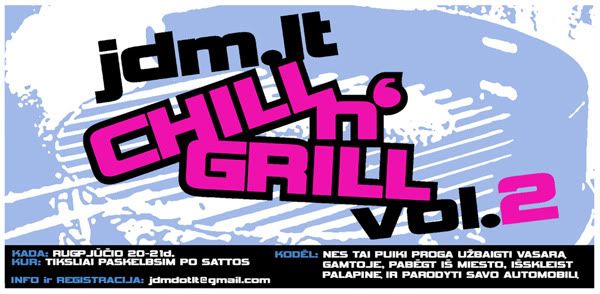 Yo! After great support and many happy participants during Chill'n'grill meet vol.1 we promised to make second part until the end of the summer :))
We keep our word, so it is official, that Chill'n'grill meet vol.2 will be in the end of August. To be exact 20th – 21st.
Our concept remains the same as in vol.1, the most important is to chill with your friends and show-off what you've got in your daily/track/weekend car. We invite all kinds, markets and generations of cars, bikes or something more :) Of course, this meet is only for slammed, flushed and stanced clean cars, as well as not so sick stance and some kind of racing cars.
Don't forget to take you grill, camping tent, sleeping bag and something to drink and to eat. Depending on the weather the meeting will take Saturday 20th August or we will stay till Sunday noon if the sun still be up! JDM.lt team will offer you some activities, music and so on, but on that later updates.
As we said, we invite all makers and countries cars, cause we approve JDMs, VAGs, LADAs and whatever looks cool! Registration is a must to decide who will took a part in main parking for show-off, so send us your name, sort description of your vehicle and some photos.
Registration: jdmdotlt@gmail.com
All information will be updated soon, exact meeting spot will be announced a week before event.
Some media, to remember Chill'n'grill vol.1 http://jdm.lt/2011/06/chill-n-grill-vol1-ok/
Stay tuned!